Fowler Will Remain In Custody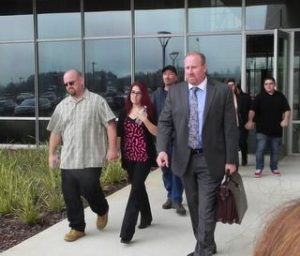 Fowler Family And Attorney Steve Plesser Leave Courthouse

View Photos
San Andreas, CA — A Judge has ruled that the brother of Leila Fowler will not be released from custody prior to his May trial.
8-year-old Leila Fowler was found stabbed to death in her Valley Springs area home in April of 2013.  Her now 14-year-old brother, Isiah, was charged in connection to her death.  Isiah, dressed in street clothes, was in a Calaveras County Superior courtroom in San Andreas this afternoon to hear the judge's decision on a motion filed by his Sacramento based attorney arguing for his release from custody in light of new evidence.
Judge Thomas A. Smith ordered Fowler to remain in a juvenile detention facility for the foreseeable future.  Fowler's attorney, Steve Plesser, argued that there was significant new evidence in the case, notably new DNA of an unknown person on Leila Fowler's hair. Additionally, he stated that there was no sign of a cleanup after the killing at the Fowler's home.
Calaveras County District Attorney Barbra Yook countered that she has requested this new evidence from the defense attorney a total of 21 times but has not received it.  Yook called the new claims "simply spin."
Some of Fowler's family members were in the courtroom today.  After the hearing, Plesser said the family was disappointed by the Judge's decision.  "I think that everyone in his family wants to see him out.  I think he would do well with family and I think that the facility that he is in now is by nature a temporary facility and I think it is an inappropriate place to house a young person in the prime of their youth for that long of a time," said Plesser.
Fowler has been in a juvenile detention facility for nearly two years, as the case goes through the legal process.  His trial is set for May 18.
As previously reported last week, myMotherlode.com spoke with Calaveras County Sheriff Gary Kuntz about the new DNA evidence.  Sheriff Kuntz stated that he remains confident that his office has arrested the right person.