Trees Will Soon Be Removed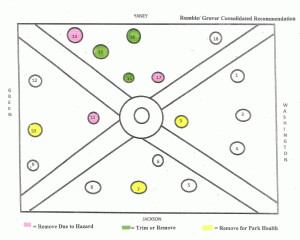 Tree Removal At Courthouse Park

View Photos
Sonora, CA — Removal of trees from Courthouse Park in Sonora will impact traffic over the next couple of weeks.
As reported previously, the Board of Supervisors approved a contract in January to remove seven of the 18 trees from Courthouse Park. Several of the remaining trees will be pruned. The county stated that the trees are being cut down for safety reasons.  The overall courthouse square improvement project also includes replacing the hedges along the marble walkways, upgrading the watering system, and installing security cameras.
Grover Tree Service out of Modesto, which is overseeing the tree removal, reports that some streets will be closed along Courthouse Park while the work takes place. Yaney Avenue will be blocked off between February 24 – 27, South Green Street from March 2-3, and Jackson Street between March 3-6. The closures will run from 7:30am – 4:30pm. Also, the bus stop will be moved off Jackson Street, onto Washington Street, effective February 24.
Be prepared for activity in the area.