Meeting To Review Rim Fire Grant Application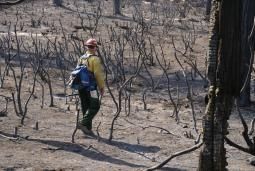 Soil Scientist evaluating a burned area of Rim Fire

View Photos
Sonora, CA — As part of the effort to receive federal dollars, a public hearing will be held next month to review a grant application related to Rim Fire.
Projects that would help the region rebuild from the Rim Fire, and increase resiliency against future disasters, are eligible for grant money. As reported previously, it is part of the National Disaster Resilience Competition, which is offered through the federal HUD program. Over the past few months, a group of federal, state and local officials have held stakeholder meetings, and collected data for the application. A draft application is now complete, and it will be discussed at the public hearing, scheduled for March 2, at 4pm, at the Sierra Bible Church on Tuolumne Road. The meeting is open to the public.
The application must be submitted to HUD by March 16. HUD will decide which applicants move on to phase two of the process, sometime in June. Funds will be awarded in December of this year. The most that an individual disaster is eligible for is $500-million. A total of $1-billion will be allocated.
Click here to find out more about Tuolumne County's application.