Valentine's Weekend Events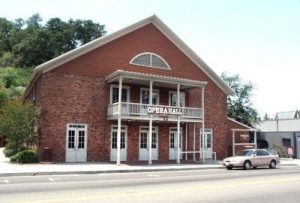 Sonora Opera Hall

View Photos
Many Valentine themed events are happening all over the Mother Lode region.
It is Sonora's 2nd Saturday Art night featuring the downtown galleries and restaurants and shops and live music. This weekend features the premiere of 88 Days in the Mother Lode, Mark Twain Finds His Voice at the Sonora Opera Hall. The Tuolumne County Historical Society will host the showing of the documentary by This 'n That Films. The free event will include crafts and storytime for kids from 2:00-5:00 pm. Kids are welcome to come dressed up like Tom Sawyer, Huck, or Becky. Guest artists and the Raks Arabika Dancers will perform downtown for 2nd Saturday, details in the event listing.
Emigrant Basin Pack and Social Club's 14th Annual Scholarship Dinner & Dance is on Valentine's Day, at the Sonora Elk's Lodge. The money raised is used for scholarships. Last year they awarded eight scholarships and purchased three pigs at the Junior Livestock Auction. More event details here.
In Angels Camp on Valentine's Day is a Dinner/Dance by the (ICF) Italian Catholic Federation's. Prime Rib dinner, fun raffle, and live music. Proceeds from the dinner go to Scholarships within our Parish, a donation for local Seminarians, and other local Parish needs. For hours and more details view the ICF's event listing.
Also Saturday, a community-wide fundraiser for adults of all ages will benefits Meals On Wheels, Senior Lunch and Transportation Programs. Dinner and dancing and more , ticket information for the Valentine's Day Ball is here.
If you made reservations for the Twain Harte Golf Club fundraiser dinner dance that is also happening this Saturday evening. Don't forget to bring canned food donations for ATCAA, details are here.
Summeville High's student journalism program 'Beyond the Cave' is hosting a Valentine's banquet and silent auction on February 14th. The proceeds will go towards sending student to a journalism convention in Denver, Colorado for four days in April. Student artists will be providing live entertainment and journalism students will be serving attendees. Dinner details and times are here.
For a non holiday event cheer on Columbia's Claim Jumpers vs Porterville College at 6pm Saturday.