Wall and Lights Next Step On Mono Way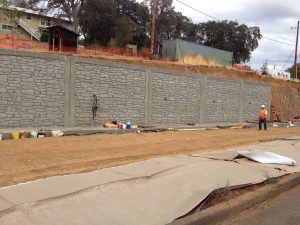 Mono Way retaining wall

View Photos
Sonora, CA — Constructions crews will tackle lights and coloring the retaining wall next week,  which could cause motorists delays.
On Tuesday and Wednesday from 7 a.m. to 5 p.m. there will be one-traffic on Mono Way.  Sonora City Engineer Jerry Fuccillo says,  "They [crews] are going to be cutting the traffic signal loops at Greenley Road and for the future signal at the Timber Hills Shopping Center entrance.  Crews will close one lane at a time while the work is being done."
Also, beginning next week, crews will be painting the rocks panels on the retaining wall, which could take up to three weeks.  Fuccillo says, "They're [crews] going to paint every rock on the wall. It's going to look like natural rock, so that's a big job."
As reported last month, Sonora City officials reported the project would be completed by the end of December.  However, Fuccillo says if the recent rainy weather continues and the temperatures remain low, the final paving may have to be pushed back until springtime of next year.  Even so, motorists will still be able to drive on the roadway throughout the winter.