Mono Way On Track For December Completion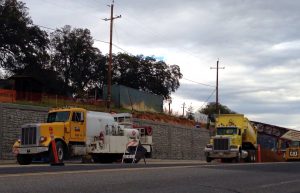 Mono Way Widening

View Photos
Sonora, CA — There is optimism that the bulk of the Mono Way widening project will completed by the end of next month.
This includes painting the large decorative retaining wall, finishing up the sidewalks, putting down the final layer of asphalt, and doing the striping.
"The contractor's plan is to complete the project by the end of this year, by the middle of December," says Tim Miller, Sonora City Administrator. "We're looking forward to having the street open, and all five lanes functional."
It is noted that there may be some irrigation and landscaping work that may take place after the first of the year, but the road should be fully open an functional.
After Mono Way, another big Sonora public works projects will be the paving of several streets in downtown Sonora, including Washington Street. That work is expected to start this coming Spring. There are also still plans over the next couple of years to widen the Greenley Road and Mono Way intersection.