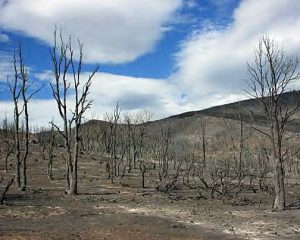 Rim Fire burned trees

View Photos
Sonora, CA — The time and place has been set for a Rim Fire Reforestation Open House where the public's input is wanted.
As previously reported,  no time or location had been confirmed for the meeting.  Forest service officials have announced that the meeting will be at the Stanislaus National Forest Supervisor's Office on Greenley Road in Sonora from 4-6 p.m. on December 16.
"This is an opportunity for people to learn about reforestation within the Rim Fire area," states Maria Benech, Reforestation Interdisciplinary Team Leader.  "We want to give the public a chance to ask questions and share ideas.  It's important for people to know why we are putting trees back on the landscape."
Another topic to be discussed will be the watershed health as 50% of the surface water in California flows from National Forest lands.  The draft plan will include the strategy for replanting trees in nearly 40,000 acres within the Rim Fire burned footprint starting in the spring of 2017.  Forest Service officials say that will not happen until the Environmental Impact Statement is completed and the Record of Decision is signed, which should be in June of 2016.