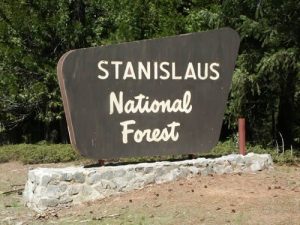 Stanislaus National Forest

View Photos
Sonora, CA – Due to the drought conditions, Stanislaus National Forest officials have called off a prescribed burn that was supposed to be ignited today.  Forest Fire Management Official Chris Schow says the recent rain was not enough to allow them to ignite the burn.
Schow adds, "We're going to wait for enough rain to know our fuels are in the right spot that we're going to balance meeting the burn objectives and minimizing the risk of escape.  The last thing any of us want is to conduct a burn with a high chance of escape."
Monday brought some much needed rain to the forest, but it was not enough, according to Assistant Forest Management Officer Robert Lang.  He says that at least a quarter inch of rain within about a 24-hour period would be needed.
"After we get the quarter-inch of rain we would still have to validate whether that pulled the fuels up," says Lang, "So, it's still waiting to see what Mother Nature throws our way.  We expected more from the last storm, and just didn't get it."
As reported earlier, a total of 491 acres will be burned in the North Fork of the Mokelumne River, Bellfour Canyon, and Bear Valley areas, off Forest Road 7N09.  Crews plan to burn 60 acres a day over a seven to nine-day period.
"We're waiting for a good storm," says Schow.  "I mean three years of drought, you don't have to be Einstein to think we need a little bit of rain here before we go lighting a match."
When the prescribed burn is ignited, smoke may be visible from Highway 88, east of Pioneer, and Highway 4, east of Bear Valley.