Summerville Stadium Grand Opening Ceremony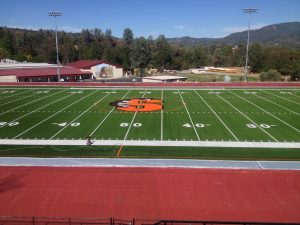 Summerville Football Field

View Photos
Tuolumne, CA — The Summerville Stadium Grand Opening Ceremony will be held on Thursday, October 16 at 2:30 p.m.
The event is open to the public. Summerville Superintendent Robert Griffith says, "It will last about 30 minutes and then you can tour the facility. The pictures are from last Thursday, but everything is falling into place."
As stated previously by Superintendent Griffith, local contractors did much the construction of the $4.1 million stadium. The bleachers were the last of the projects to be completed.
The following day Friday, October 17th, is the first football game at the new stadium. It will be against Argonaut. The Homecoming game against Linden is set for November 7.