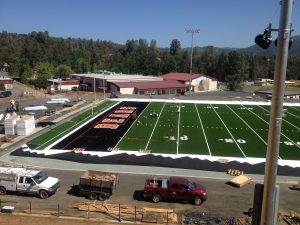 Summerville Stadium construction

View Photos
Tuolumne, CA — The last of the concrete for the Summerville Stadium bleachers was poured today allowing school officials to set an opening date in mid-October.
As reported earlier this month, the original opening date of October 3 was up in the air depending on the how quickly workers could get the bleachers done.
Summerville Superintendent Robert Griffith says, "The fact that we're within about 10 to 15 days of that target date is pretty good. The fact that we've used local contractors for so much of the work and they all took a personal ownership in trying to get this thing done on time has really paid great dividends for our school district." Griffith adds the next step is putting in the orange seats along with the black railings in to complete the $4.1 million stadium.
The official opening ceremony will be held on October 16 at 2:30 p.m. The following day will be the first home football game of the seasons. The Homecoming game is set for November 7.