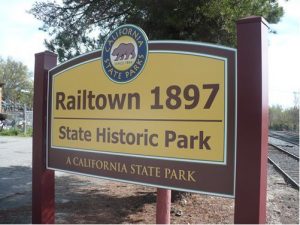 Railtown 1897 Sign

View Photos
Jamestown, CA — The Tuolumne County Board of Supervisors took another step towards making the Jamestown Sidewalk Project a reality. At its Tuesday meeting, the Board voted unanimously to take bids for construction of the project.
Jamestown is in District Five, which Supervisor Karl Rodefer represents. He says, "I think this is a good thing for Jamestown. I think it's a good thing for certainly for District 5 and for Tuolumne County."
The County has secured an estimated $910K state grant to pay for the sidewalk improvements, and a local committee is raising money to turn portions into a walkway that promotes the rich film history of the region. The Walk Of Fame would start in Rocca Park, travel to Seco Street, to 9th Avenue, to 5th Avenue (Railtown 1897).  Click here for more details on the project.