Fire Season Starting Early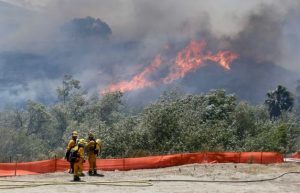 Wildfire In San Diego County

View Photos
Statewide, CAL Fire has responded to 120 wildfires in the just the past four days.
The largest fires are currently in Southern California where firefighters have been facing high temperatures and heavy winds. Over 2,600 fire fighters are currently on the frontlines fighting fires. As reported yesterday, some members of the CAL Fire Tuolumne-Calaveras Unit are down in SoCal assisting the efforts. Click here to read the earlier story.
In the Mother Lode yesterday, there was a small fire near Jesus Maria Road in Railroad Flat.
Below is a list of some of the major fires currently burning in the state:
Cocos Fire – San Diego County
The fire is 1,200 acres and 5% contained. Several evacuation orders are in effect.
Pulgas Fire – San Diego County
The fire is 8,000 acres and 5% contained. The fire is in the Camp Pendleton Fire area.
Bernardo Fire – San Diego County
The 1,548 acres and 90% contained. All evacuation orders have been lifted.
Miquelito Fire – Santa Barbara County
The fire is 632 acres and 95% contained. Full containment is expected later today.