A Black Eye On Department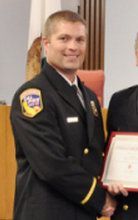 Cal Fire Tuoumne-Calaveras Unit Chief Josh White

View Photos
San Andreas, CA — The Cal Fire Tuolumne-Calaveras Unit Chief responds to an investigation that blames state firefighters for an escaped controlled burn, which spread to a home and vegetation.  
"This is a black eye that the department doesn't need," says Chief Josh White of the Cal Fire Tuolumne-Calaveras Unit. "We are going to be very diligent that the public trust be maintained with the department."
As reported earlier, on March 12, a Granny Cottage and  2 ½ acres of vegetation burned on the 23000 block of north Bald Mountain Road near the intersection of Big Hill Road northeast of Columbia. Today Tuolumne County District Attorney Mike Knowles released a statement regarding the results of the investigation. It determined that embers from a hazard reduction burn project conducted by state firefighters sparked the blaze.
Chief White said the Unit cooperated with the investigation.  He says, "I believe anything the D.A.'s Office requested of us we provided for them; the documentation, access to witnesses and such.  We've been forthcoming and working with the D.A. to ensure that if there was any wrong doing by the department we addressed it."
Cal Fire Officials report the control burn area was part of a 500-acre strategic fuel break project.  The project was started in 2012 to protect communities in Tuolumne County while providing firefighters a safe environment to combat wildland fires.
Chief White adds that the department is conducting an administrative review of the entire incident to make sure this never happens again. The D.A.'s Offices says there are no charges or fines pending at this time.