Volunteers Offer Christmas Dinners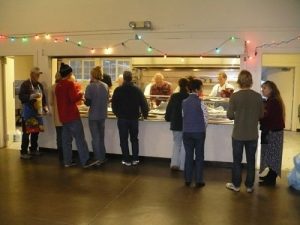 Christmas Eve Day Dinner

View Photos
Several community residents will be volunteering time to serve up warm Christmas meals.
On Tuesday from noon-6pm will be the popular Christmas Eve Day Dinner at the Mother Lode Fairgrounds. No reservations are needed and it is a family oriented event. Around 200 people volunteer for the event, and anywhere from 1,800 to 2,000 typically attend.
There will also be several meals served up at various locations on Wednesday, Christmas Day. A free dinner will be available from 1-3pm at the Native Sons Hall in downtown Murphys. The event put on by the Murphys Friends will also feature Santa and gifts for children.
A Christmas Day Dinner will be served at Jamestown Elementary School from 1-3pm.
Dinners will also be served at the Sonora Opera Hall and Tuolumne Memorial Hall. For more details on the various events, go to the community section of myMotherLode.com and click on the selected date.