Mother Lode Gives Vets Heartfelt Thanks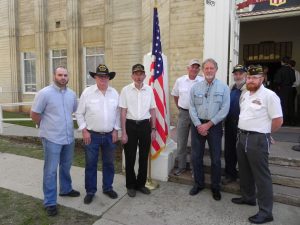 Veterans Day 2014 with Tuolumne military vets Jake Heldstab, Lee Dahlin, Allen Comer, Jerry Disney, Peter Jelito, and Aaron Rasmussen, commander of the 4748 VFW

View Photos
All over the Mother Lode, folks are marking Veteran's Day with flag displays and taking time to remember – and thank — veterans for their service.
A parade in Copperopolis and gatherings at local veterans' memorials planned by veterans groups gave former and active military service men and women and members of the public opportunities to gather.
In Tuolumne City, members of VFW 4748 hosted a program in front of the town's Veterans Memorial Hall, led by Aaron Rasmussen, commander of the veterans group. Members of Summerville High School's vocal ensemble, Jazz at 8, turned out to sing the national anthem and "God Bless America."
When asked for his thoughts about the day, local veteran Ed Harris states, "This day, I am just so proud of my country and all the veterans who fought. And what I am really proud of is the families who endured with them what everybody was doing, because it was probably just as hard as hard on them as it was, what the guys were doing out there on the line."
Allen Comer, a career military service man, who served from 1959 to 1979, adds, "I'm just glad to see that our service is appreciated."
Another local vet, Peter Jelito, chimes in, "I echo all those comments and I am elated that the young folks took the time to come out and sing for us — it's really appreciated."
For more details on Veteran's Day activities across the Mother Lode, click here.