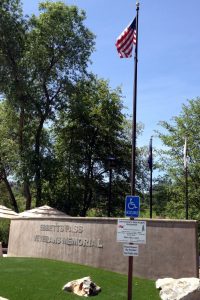 Ebbetts Pass Veterans Memorial

View Photos
Veterans Day, Tuesday, Nov. 11 is a day nationally observed with parades and other events, and so it shall be across the Mother Lode.
Rain or shine, the annual Veterans Day Parade in Copperopolis will kick off at 11 a.m. down Main Street. Along with hotdogs and drinks from Copperopolis Lions Club and a bake sale by the VFW Ladies Auxiliary, there will be a public safety event for the public, with vehicles and equipment on display from the Sheriff, Highway Patrol, fire and emergency departments. For more details, click here.
Ebbetts Pass Veteran's Memorial District invites the public to pay tribute to all U.S. military veterans from 11 a.m. to noon at the memorial park, on Algiers Street, where in addition to music, flags and fellowship, event goers will be able to see recent additions to the memorial park.
Former and current women members of the military who have not yet made a reservation in advance might still attend the annual Women Saluting Women Luncheon, hosted by Soroptimist International of Twain Harte; this, according to event spokesperson Margie Lang. The event, held at the Twain Harte Golf Course on Meadow Lane in Twain Harte, runs from noon to 1 p.m. with an 11:30 a.m. check-in. For contact information and more details, click here.
From 3 to 6 p.m., at Tuolumne Veteran's Memorial Hall on Pine Street, the public is invited to attend a screening of the documentary Riding My Way Back. The film chronicles a soldier's journey from multiple deployments to Iraq and Afghanistan, through a traumatic brain injury and Post-Traumatic Stress Disorder. At the brink of suicide, he finds healing through a therapeutic equine program and a friendship with a horse named Fred. Tickets, which are $10, benefit the Riding My Way Back Project, Vets Helping Vets and HeadWinds Therapeutic Horsemanship. For more details, click here.
Freebies From the Parks
Anyone entering the Yosemite National Park will get in for free on November 11 in honor of current and former members of the U.S. armed forces. Free admission is being observed by all public lands managed by the Department of Interior and the Department of Agriculture. This fee-free day has been observed since 2006 and applies to the entrance fee only. Other charges related to camping, lodging and entertainment still apply.
Railtown 1897 State Historic Park is also offering veterans and active military personnel complimentary park admission and excursion train rides. For more details, click here.
The History of Veterans Day
Though celebrated widely, the day became a legal holiday through a 1938 Act of Congress, which dedicated it to the cause of world peace. Its roots stem from Armistice Day, November 11, 1918, the date on which World War I hostilities officially ended, inspiring President Woodrow Wilson to proclaim that the first marked observance would occur on that date a year later, and the day became widely commemorated across the country, moving forward.
In 1954, in consideration of U.S. armed military service and sacrifices during World War II and the Korean War, Congress renamed it Veterans Day to reflect to honor American veterans of all wars.
For a time during the late 1960s to through early 70s, the federal government and several states were at odds over when to observe the holiday. Congress sought to include it among other national holidays to be celebrated on Mondays (thus, ensuring three-day weekends for Federal employees), and briefly succeeded. However, through a public law, signed by President Gerald R. Ford, the holiday would be restored to its original observance date, beginning in 1978.