Still Counting Close Calaveras Races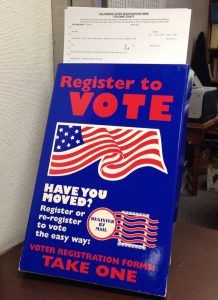 Register To Vote Sign

View Photos
San Andreas, CA — One day after elections, as votes are still being processed, incumbent Calaveras County District Three Supervisor Merita Callaway and challenger Michael Oliveira are chief among local candidates with fingers crossed for a close win.
No official time has yet been given for when approximately 2,200 outstanding mail-in and provisional ballots will be through being tallied, according to the county's Elections Office.
Oliveira leads the race for the office that serves the Murphys-Arnold area by a 3% margin, which is only 74 votes. The current numbers show him having 51% (1,591) of the votes, versus Supervisor Callaway at 48% (1,517).
"I'm not willing to say that I'm not going to win and represent the people of District Three until all votes are counted," says Supervisor Callaway, who has served for 21 years in the position. "I feel that there's a vision that I have that is different than Mr Oliveira's and we'll see where the community goes with that. I am not going to analyze what could I have done or what could we have done differently because this is where we are today."
Oliveira could not be reached for comment.
In the District Five Supervisor challenge, a 317-vote margin separates candidates Steve Kearney and "Marti" Crane, with Kearney at 56% (1,314 votes), versus Crane at 42% (997). Incumbent Darren Spellman was not on the ballot as he was not one of the two top vote-getters in the primary election.
To view the myMotherLode.com complete and up-to-date listing of elections races in Calaveras and Tuolumne counties, click here.