Booooo! It's Halloween Weekend, Rain Or Shine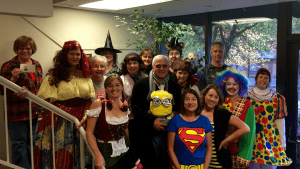 Happy Halloween From Tuolumne County Superintendent Of Schools Office

View Photos
Sonora, CA — While the Halloween weekend forecast calls for rain tonight and early Saturday (and possible snow in elevations above 6,000 feet), residents across The Mother Lode are gearing up for a scary-fun, event-packed weekend.
Top retail web searches for Halloween costumes reveal that the hands-down favorite costume for trick-or-treaters this year is Elsa, a lead character from Frozen, this year's Disney animated blockbuster. You can expect to see zombies and ninjas in numbers, as they show up as the second and third most popular searched for costumes. Along with plenty of pirates, clowns, witches, and vampires, you may also encounter more than a few Teenage Mutant Ninja Turtles.
Celebrations will be sweet, especially if you are a chocolate lover. According to the National Confectioners Association, almost three-quarters of Halloween candy sales this year are chocolate-related with Reese's ruling as the overall bestseller, followed by M&Ms and Snickers.
Area residents will have their pick from a host of haunting attractions, Halloween parties, and a Day of the Dead festival in Murphys on Saturday. Click here for a sampling of events. Looking for a scary movie? Ouija and Saw are both playing at local theatres. Click here for movie show times.
myMotherLode.com continues to provide updates to this Halloween weekend's related news, tips and police activity to help make and keep it a safe and happily memorable All Hallows Weekend. Be careful out there — and enjoy!
Remember, too — to turn your clocks back one hour at 2 a.m. Sunday, Nov. 2.