Big Trees Hiking

The five mile hiking trip through this grove of giant sequoias is highly recommended with day use fees of $10 to $12 unless you have a California Parks Pass. Take many photos but remember to stay on the trails and leave the pinecones and other objects where they are. The Walter Smith Parkway beyond the North Grove which leads to the Stanislaus River and South Grove is closed from mid November to late April but cross country skiing is available and encouraged in the Park during the winter months.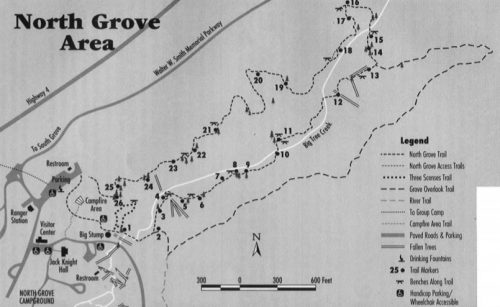 Saturdays enjoy a guided hike through the North Grove of trees starting at 1:00pm.  The 1.5 to 2 hour hike begins at the visitor center and is free with your paid admission to the park.  For more information call the visitor center at (209) 795-3840.
The three trails areas include the moderately difficult Lava Bluff 2.5 mile trail and the gentle well marked 1.5 mile Bradley Trail.
South Grove Trails vary on length depend on your route with a 3.5 or 5 mile hike. The first 1.5 miles of trail there is a gain of 260 feet in elevation.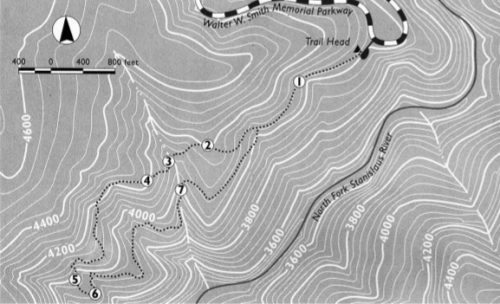 The loop trail is just over a mile and passes the lower part of the grove. Halfway around the loop, you will find a 1/2 mile side trail leading to the upper grove and the largest tree in the park, the Agassiz Tree. The South Grove interpretive guide is here.
Garbage cans and restrooms are available at the parking lot only, and be sure to carry water with you.
Dogs are welcome in the park on leash in developed areas like picnic sites, campgrounds, roads and fire/dirt roads. Dogs are not allowed on the designated trails, nor in the woods in general.
If you want to stay in the Mother Lode take a look our list of places to stay.
Planning a wedding, conference or other event? Take a look our list of places to host your event.
Tell us about your experience at this place! Contact Us