Eproson Park and Twain Harte Meadows Park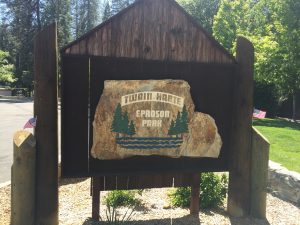 Eproson Park is a small children's park in Twain Hart adjacent to the golf course and baseball field. The play equipment was updated in 2015. Featuring forest green and earthy neutral tones with dark red accents, the modern but whimsical design gives off the appearance of almost having sprouted up in place, offering numerous slides as well as engaging interfaces for climbing and swinging. Twain Harte Community Services District Tom Trott states,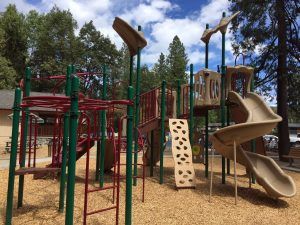 "We, and the children — who have been thoroughly enjoying the play structure — are very appreciative of this wonderful community who makes things like this possible in Twain Harte." As detailed here.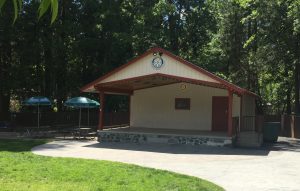 The park also has an outdoor stage where candidates for political offices have visited. The stage is used for concerts in the park and film festivals, and many other events use the area during the summer months.
There are picnic areas and restrooms available at the park.
Twain Harte Meadows Park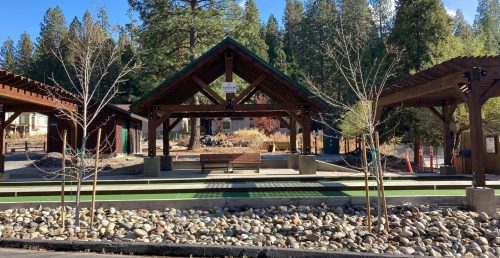 Across the street the Twain Harte Community Services District has been working on Twain Harte Meadows Park. In 2016 the district sold a one-acre parcel of land that was owned by its water and sewer divisions in order to raise revenue for facility construction. To the district's surprise, the buyer, Julie Cowell, donated it to the district's park division. She and her late husband, Robert Cowell, had dreamed for years of creating a beautiful park that would draw the Twain Harte community together for generations.
Phase one enhanced the Bocce Court by creating a 16'x24' Pavillion for shade over the courts and picnic area. A water tank was installed that captures pavilion roof rainwater for the Me-Wuk Indian plant garden.
The Final Conceptual Design