Mark Twain Cabin
Appreciate the colorful language of Mark Twain in Tuttletown near Columbia and Sonora.
The Mark Twain cabin was restored by the Sonora Sunrise Rotary Club, during 2002-05, to celebrate 100 years of rotary (1905–2005).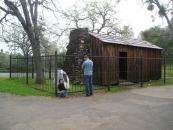 The cabin was dedicated on February 23, 2005, the 100th birthday of Rotary International.
The replica, with original chimney and fireplace on Jackass Hill, is where a young Sam Clemens or "Mark Twain" was a guest of the Gillis Brothers during the winter of 1864-65. He came over the mountains from Virgina City, Nevada, to San Francisco with his friend Steve Gillis. Various biographers give different reasons, such as hunting for gold, but while living on the hill, Sam heard the story of the "Jumping Frog" in an Angels Camp saloon. His version, the "Jumping Frog of Calaveras", first brought him fame. Later he wrote "Roughing It" also inspired by his stay in Calaveras.
Some of the tall tales spun by the Gills brothers and Stoker found their way into Mark Twain's later writings. Today all of Calaveras county celebrates the "Jumping Frog of Calaveras" at the Calaveras county fair. For more information about Fair visit the annual events page so you won't miss experiencing the event that Mark Twain perpetuated.
If you want to stay in the Mother Lode take a look our list of places to stay.
Planning a wedding, conference or other event? Take a look our list of places to host your event.
Tell us about your experience at this place! Contact Us