Community, Youth and Senior Centers
Tuolumne and Calaveras counties offer several community, youth and senior centers.
The Tuolumne County Recreation Department operates three youth centers in Groveland, Jamestown, and Tuolumne with free walk in programs for ages 8 to 18.
Groveland Youth Center events calendar
18950 Highway 120 Groveland, CA 95321 (located next to the Groveland Library in Mary Laveroni Park)
209-962-7263
Jamestown Youth Center events calendar
10540 7th Street Jamestown, CA 95327 (7th street is between Railtown and the Elementary School)
209-984-4188
Tuolumne Youth Center events calendar
18636 Main Street Tuolumne, CA 95379 (same building as library)
209-928-4527
Tuolumne County Enrichment Center
The Tuolumne County Enrichment Center (EC) is a Wellness and Recovery Center providing quality services, empowering people, and listen in a non-judgmental manner.
Open 8 a.m. to 4 p.m. Monday through Friday. For more information, call 533-7114.
101 Hospital Rd Sonora, located in the parking area at the old Community Hospital, also has a garden area.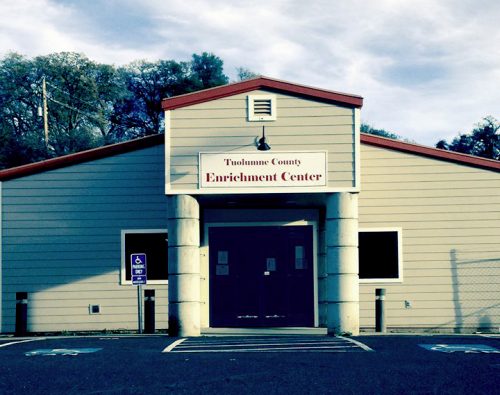 Laundry on Tuesdays, Showers Thursday, Mondays and Wednesdays Women's group in the art room while the Mens group meets at 9 a.m. in the main center. P.R.I.D.E. Non-Binary group meets at 9 a.m. in office 10.
Peer Support Groups for Bipolar, Depression, Eating Disorder Support Group, Trauma Recovery & PTSD, Professional Development, Dual Diagnosis, Working With Emotions, and Diabetes Support Group. Other groups include Healthy Eating, Meal Planning, AA and Seeds of Hope Grief. Smile Keepers visits the center on various Fridays throughout the year (contact the EC for exact dates). Updates on Facebook here.
Outreach and Engagement Resources in Response to Mental Illness, Addiction, Poverty, and Homelessness in Tuolumne County
Open 8 a.m. to 5 p.m. Monday through Friday. For more information, call 533-4879.
347 W. Jackson St. Sonora
Internet access for job search and support for applications
Benefits Specialist by appointment
Food available daily
Referral to other community resources and needs
Social and emotional support
Faith based resourcing
Your Center for Community, Nutrition, Education, and Activities
40 Greenley Road, Sonora details here.
Offering free and low cost meals for seniors through the Meals on Wheels program. Rents out rooms and facilities to other organizations and events, both private and public.
Offers a computer room at the facility with several computers, a printer and
internet access free of charge, and to the public for a small donation. Computer classes are offered weekly. Activities available to seniors, vary from exercise classes to pinochle. Funded in part by Area 12 Agency on Aging as well as private donations, a tax-exempt organization.
To gather older adults in community, increasing dignity and well being through mental, physical, spiritual, financial and relational support.
65 Mitchler Ave., Murphys, CA (Downtown Murphys)
call (209) 728-1672 details here.
Exercise classes, Educational Events, Pinochle, Lunch on Tuesdays, Grief Support, Bridge, Mahjong, Mexican Train
Independence Hall is the Arnold Community Center, officially established in 1974. From its inception, the Hall has served as a non-profit, non-tax-supported community facility for the Ebbetts Pass area. Originally, the Hall was a one-room elementary school. The original building was signed over to the Ebbetts Pass Wonderland Association and in recognition of our nation's bicentennial was renamed Independence Hall.
P.O. Box 2056
1445 Blagen Road Arnold, CA 95223
(209) 795-2152
If you want to stay in the Mother Lode take a look our list of places to stay.
Planning a wedding, conference or other event? Take a look our list of places to host your event.
Tell us about your experience at this place! Send an email to the Destination Guide Administrator. If you would like to advertise with us, please e-mail our sales department or give us a call at (209) 533-1450. To see a gallery of our current advertisers click here.