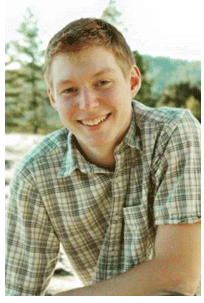 Eric James passed away Wednesday, April 6th at Lucille Packard Children's Hospital in Palo Alto after a battle with Rhabdomyosarcoma (RMS) cancer. He was 19 years old.  Heuton Memorial Chapel is handling the arrangements.
Prior to his diagnosis, Eric was a full-time student at Columbia College and worked at the Sportsman Coffee Shop and the Eproson House in Twain Harte.
Eric made a very strong positive impact on those who had the privilege of knowing him. His smile alone would light up the room, along with his red hair and brilliant blue eyes. His main love in life was jeeping with his brother, Brian James, his beautiful fiancé, Danielle Hinshaw, who he adored, his dad, his best friend Fynn and Robby and anyone else that was up to having a good time.
Eric was very excited to get through this horrible year to continue his journey. He and Danielle had it all planned out. His goal was to be a professional gamer, which he loved so much. But, he was smart and was planning on getting a degree in computer science to support his sweetheart that he would have treated like a queen.
We really believe with a whole heart Eric is in Heaven with our family members that preceded him. Some of the many words that describe our precious Eric — smart, handsome, sensitive, loving, determined, sincere, strong, humble, funny, sweet, sensible, tough, genuine and passionate.
Eric is survived by his mother and stepfather, Janet Vassar-Jeske and Douglas Jeske; his father and step-mother, Elbert James and Sandra Spaulding; his brother, Brian James; his fiance, Danielle Hinshaw; his grandparents, Linda and Dave O'Kane and Charles James; and his great-grandparents, David Bradley and Elvira Miller.
It's been very hard to be able to thank everyone individually for all of the support and love that we have received since this horrible diagnosis. Eric's family would like to say from the bottom of their hearts, thank you for everything, to family, friends and people that we met through this process.
Heuton Memorial Chapel is handling arrangements.
Date of Death: 04/06/2016
Age: 19
Residence: Jamestown
Celebration of Life: River Ranch Campground Sep 30 @ 1pm potluck. If Questions 209-770-6305 (text or call)