Phoenix Lake Road Bridge Opens Permanently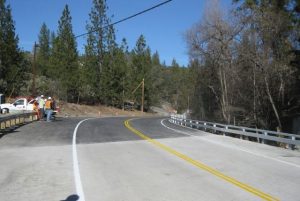 Phoenix Lake Road - Archive Image

View Photos
Sonora, CA – Travelers on Phoenix Lake Road will no longer have to worry about taking a detour around the new bridge over Sullivan Creek.
Effective 5pm today, the bridge will be open on a permanent basis.
"We are simply ecstatic to be done," says Bill McKenzie, Senior Civil Engineer with the Public Works Department. "We want to thank all the residents of Tuolumne County for their patience."
Crews have been working this week to stripe the road and install the last guardrail. The bridge was temporarily open on an emergency basis during last week's winter storm, as Crystal Falls Drive was deemed too dangerous for travel.
The Federal Highway Bridge Program funded the $2.1 million project.
Written by bjhansen@mlode.com.