Tuesday Delayed Openings Already Scheduled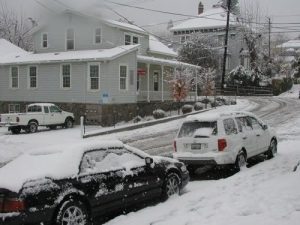 Snow covered cars in downtown Sonora

View Photos
Sonora, CA — A number of delayed school openings have already been announced for tomorrow.
Curtis Creek Elementary, Sonora Elementary (buses will not service Lyons Bald Mtn. Rd. or High Meadow), Summerville Elementary, Columbia Elementary, Jamestown Elementary and Chinese Camp are all scheduled for two hour delays.
There will also be a two hour delayed opening for the Tuolumne County Schools Office on Fairview. This information could easily change by tomorrow morning if not by later today given the Freeze Warning issued by the National Weather Service. That warning period is from 2am-9am Tuesday.
The Tuolumne County District Attorney's Office is without power as is City Hall. Tuolumne Me Wuk Health Center is closing at noon today. Gold Country Social Club at the Pine Tree is canceled for tomorrow rescheduled for next Tuesday the 15th.
Tuolumne and Calaveras County Transit systems have been shut down for the day. In addition Waste Management/Cal Sierra has recalled all trucks canceling the remainder of today's schedule.
Power at Sonora City Hall has been restored.
Written by bill.johnson@mlode.com