Tioga Pass-Glacier Pt. Rd. CLOSED For Winter Months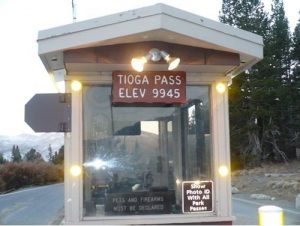 Tioga Pass Entrance

View Photos
Yosemite National Park, CA — Effective immediately Tioga Pass (9,945 ft.) and Glacier Pt. Rd. within the Park are closed for the winter months.
Yosemite, of course, is open year around but Tioga Pass and Glacier Pt. Rd. generally close upon the onset of winter with a reopening to occur whenever weather permits in the spring months.
All park entrances (Hwy 41, 120 and 140) remain open year around. Hwy 140 from Merced and Mariposa is considered the best of the three for winter travel. For Highways 41 and 120 respectively there is always the possibility of snow and/or ice.
Road conditions can always be checked by calling (209) 372-0200. Click "1" twice for the latest road information. You can also click YOSEMITE NATIONAL PARK for detailed information.
Written by bill.johnson@mlode.com