Cogdill's Water Bill Passes The Legislature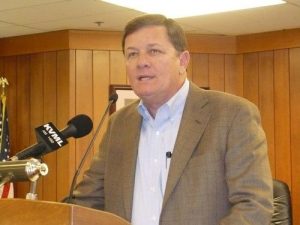 Dave Cogdill

View Photos
Sacramento, CA — Now its on to the voters … it being Senator Dave Cogdill's Safe, Clean, Reliable Drinking Water Supply Act of 2010.
Cogdill commented, "There's $3 billion for the public portion of surface water storage and about a half a billion dollars for local conveyance for canals to construct the surface water storage. The remainder of the funds will go for conservation efforts such as surface water cleanup.
At the end of the day we were able to negotiate an acceptable language relating to area of origin of protection. Another pot of money in the bond is set aside exclusively for mountain counties (Mother Lode) and that's something that had never happened before. Usually that area had to compete with larger counties but now the smaller counties will have their own pot of money to draw from."
If it were up to Cogdill he would like to see more "brick and mortar" content in the legislation but he admits that any legislation will call for compromise.
Cogdill admits "It's been a very personal issue for me especially over the past three years ever since the original introduction of SB59 which was the Governor's original water bond that I was the author of.
It's been a long, touch slog. These issues are never simple and that's is why we really haven't done anything major in the way of water structure in four decades."
Now it's up to the voters to pass the $11 billion bond.
Written by bill.johnson@mlode.com