Sierra #3 Returns To Railtown: Restoration Continues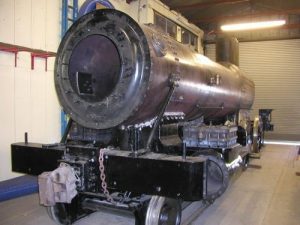 Railtown 1897

View Photos
Jamestown, CA – Sierra #3, "The Movie Star Train," has returned to Railtown 1897 in Jamestown.
The locomotive is in the midst of a full restoration and has spent the past several months at the California State Railroad Museum in Sacramento.
According to Railtown Superintendent Kim Baker, it arrived back in Jamestown Friday afternoon. It is currently being housed at the Tri-Dam shop on the Railtown grounds, and likely won't be fully restored until around April.
The train has appeared in multiple films over the years, and Tuolumne County Film Commissioner Jerry Day hopes it will be featured in many more in the near future.
"We actually have two on tap who want to shoot right now, and they are trying to figure out if they can wait until April." says Day. "The anticipation is mounting."
In 2006, the Sonora Area Foundation raised over $300,000 to help with the restoration effort. A matching amount of funds were provided by the California Cultural and Historic Endowment.
Once the restoration is completed, officials say Sierra #3 will be one of only a few 19th century steam engines still in operation.
Written by bjhansen@mlode.com.