Second Annual Stand Down Set For Tuolumne County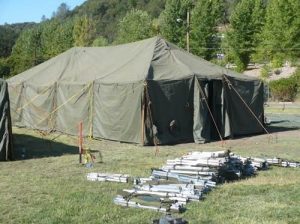 Stand Down Tent

View Photos
Sonora, CA — The second annual Stand Down for all homeless military veterans will open tomorrow morning at seven o'clock at the Mother Lode Fairgrounds.
According to Stand Down Coordinator Frank Smart, "We learned last year that we needed to provide more services like free vision, free dental. We had it last year but we'll have it on a bigger scale this year. The veterans can get glasses this year.
We rearranged our camp a little bit to make it more convenient, more private for the homeless veterans so they can have an area where they can congregate in, sleep and eat.
We have a better organization, tighter run organization this year. We're a well financed organization although we could use a little money … not much.
Things are looking real good. That was a learning experience last year. We learned a ton that we were doing some things exactly right, somethings kinda right and some things wrong."
Smart adds that all eight meals that will be served between Thursday morning and Saturday noon have been organized and donated to the Stand Down by community members including Seven Sisters (Thursday evening tri-tip dinner), '49er Rotary, Twain Harte Rotary, Sonora Kiwanis, Seventh Day Adventist Church, New Life Lighthouse Ministries and veteran Jerry Tannhauser who presides over the Hwy 108 Fire Safe Council.
Invitation notices have been distributed to a number of agencies including Interfaith and the Food Bank and drop-in centers. Buses will pick up veterans in Amador and Mariposa counties.
Asked why he takes on the task Smart commented, "People need help. It's a shame that the richest country in the history of the world has homeless people but we do. Especially in these hard economic times when companies are downsizing and closing and the economy is in such a downward spiral. We know that 26 percent of all homeless people are veterans."
Written by bill.johnson@mlode.com