Sonora Stand Down Will Help Homeless Veterans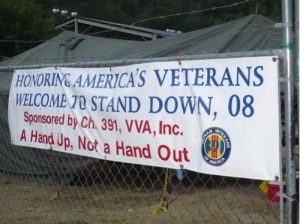 Former

View Photos
Sonora, CA — An event next month in Sonora will help homeless Veterans learn about benefits they are entitled to receive.
"The VA and HUD both say that 26 percent of the homeless population are Veterans, and one of the things that we are seeing is that there are more and more Iraq and Afghanistan Veterans now in the homeless population" says 'Stand Down In the Foothills' spokesperson Frank Smart. "That is a trend we need to stop."
The VA and California Department of Veterans Affairs will be on hand to assist Veterans with their claims for compensation. A main thrust of the Stand Down is to give homeless Veterans from all wars an opportunity to solve whatever problems they have which are keeping them homeless.
The term "Stand Down" was widely used during the Vietnam War to describe bringing an infantry unit in from the jungle and "standing them down" from combat operations for a period of 10-14 days. The time was used by the units to re-equip, attend to minor wounds, train new personnel, get hot food and some drinks.
According to the Stand Down committee, 40-60 homeless Veterans are expected to attend from Tuolumne, Calaveras, Mariposa and Amador Counties.
The event is scheduled for September 10-12 at the Mother Lode Fairgrounds.
Written by bjhansen@mlode.com.