Sonora El Arsonist Arrested For Recent Vandalism Spree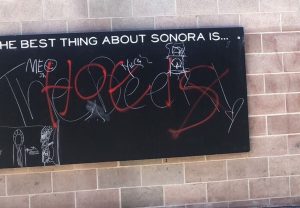 Graffiti in downtown Sonora

View Photos
Sonora, CA – Already on parole for setting a fire at Sonora Elementary School that caused over a million dollars in damage, Sonora police have now taken the convicted arsonist into custody for a vandalism spree earlier this month in downtown Sonora.
The arrest of 22-year-old Shahaun Lemont Davis of Sonora took place today just after 9:30 a.m. after officers raided a home 100 block of West Bradford Street. Police spokesperson Sgt. Curtis Hankins relays that evidence related to the vandalism was found in the residence, but he would not specify exactly what that was.
The string of graffiti attacks were between July 2nd and July, 9th. During that time Davis allegedly tagged Cassina High School several times with graffiti, causing well over a thousand dollars in damage, according to Sgt. Hankins. As reported here on July 4th, red spray paint was used to tag a car and several buildings along Washington Street with gang related graffiti.
Sgt. Hankins details how Davis was caught, "The officer who was doing follow up [on the case] found that there were some surveillance cameras in the area and through those cameras they led us to Mr. Davis." He also confirmed that the video clearly showed it was Davis committing the crime.
Davis was arrested for felony vandalism and violation of parole. The latter refers to his arrest and conviction of arson for the classroom fires at Sonora Elementary back in November of 2013, when he was 17, as detailed here.
Another individual, 20-year-old Joseph G. Marsellis of Sonora was also arrested during today's house search for an outstanding misdemeanor warrant.  Sgt. Hankins says that warrant was related to an underage person in possession of alcohol.