Scholarship Programs Flourish Despite Economic Woes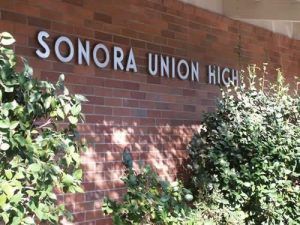 Sonora High School

View Photos
Sonora, CA — When it comes time for graduation ceremonies it's also time for scholarships and this year 128 Sonora High students are receiving a total of $159,600 in community raised funds.
Sonora High Scholarship Coordinator Charlene Dambacher comments that the record amount of scholarship funds, $172,000, was set last year. She adds that she is not at all surprised at the amount that was raised this year even with a downturn in the economy. "People really want to take care of our youth. Some people called and said I can't give this year but I will next year. Others called and said they wanted to give this year and they wanted to increase the amount of the gift."
Scholarships are provided by numerous service clubs, private citizens and memorial scholarships (the largest amount) in memory of teachers, students and family members of faculty/staff.
Scholarships are not necessarily awarded on a financial need basis. For example scholarships can be given to the most improved student, the student with the best grade point average or perhaps an athlete.
The awards were made on May 21 but before a student actually receives the funding verification of enrollment in a community or four year college or a vocational-trade school must be provided.
This year two $2,000 scholarships were awarded by the Clarke Broadcasting Corporation. At Sonora High the winner was Ashley Pries of Sonora. Sharai Dorothea Kirk from MiWuk Village was the Summerville High School winner.