Yosemite Will Offer Free Admission Three Weekends This Summer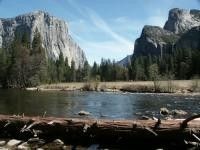 Yosemite National Park

View Photos
Yosemite, CA — The National Park Service will allow visitors free entry to all national parks during three weekends this summer.
The Associated Press says the fee waivers will apply to all 391 national parks across the country. Interior Secretary Ken Salazar says the free weekends should help American families struggling with the recession afford a memorable vacation.
All 147 Park Service sites that charge fees for entry will waive fees from June 20-21, July 18-19 and August 15-16, Salazar said.
Entry fees being waived range from $3 to $25. That does not apply to fees charged for camping, reservations, tours or concessions.