Rider Named In Motorcycle Crash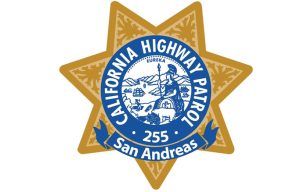 CHP San Andreas Unit logo

View Photo
Glencoe, CA – A Stockton man suffered serious injuries in a solo-vehicle motorcycle crash on Highway 26 in the Glencoe area of Calaveras County on Saturday morning that slowed traffic.
The wreck happened just after 11 a.m. on the highway east of Humbug Creek Road, as initially detailed here.  The CHP reports that 64-year-old Jerry Inman was eastbound on the highway on his 2005 Kawasaki RR 1200 going about 30 to 35 mph. According to the CHP, for unknown reasons, Inman allowed the bike to drift off the roadway where it struck a large dirt embankment. The force of the collision caused the bike to flip over. Inman was ejected from the motorcycle and he landed on the roadway.
Officers directed traffic for about 20 minutes as emergency responders treated Inman, who suffered moderate injuries. He was flown from the scene to a Modesto hospital. His condition is unknown at this time. The CHP does not believe that drugs and/or alcohol were not a factor in this collision.