Pedal To The Metal Driver Arrested For Evading, Drug Peddling Gets $105,000 Bail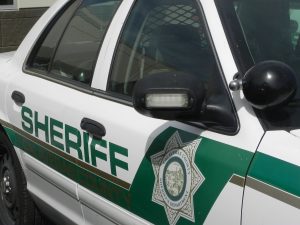 Calaveras County Sheriff

View Photo
San Andreas, CA –- Following a high-speed chase and crash in the Hogan Dam area, a local man faces multiple felonies.
According to Calaveras County Sheriff's spokesperson Sgt. Greg Stark, deputies on Monday afternoon around 4:30 activated lights and siren after spying a vehicle traveling at a high rate of speed on Hogan Dam Road near Highway 26 in Valley Springs.
However, the vehicle fled the attempted enforcement stop doing about 70 miles-per-hour, and while crossing over double-yellow lines multiple times, nearly hit a black SUV and collided with a telephone pole near Vista del Lago.
Stark says the driver, 34-year-old David Pinkney Sayle of Valley Springs, was searched and deputies uncovered 1.5 grams of meth and drug paraphernalia among other evidence.
"He was subsequently arrested for multiple felonies, including evading with a wanton disregard for public safety, transportation of a controlled substance, including for sales, possession of paraphernalia, and misdemeanor hit-and-run," Stark shares. He adds that Sayle's $105,000 bail was set pursuant to state guidelines for the combined charges.