Lost Hikers Rescued In Stanislaus National Forest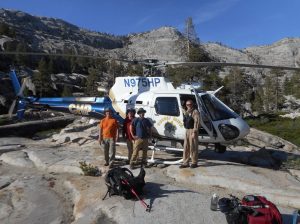 Helicopter Rescue In Stanislaus National Forest

View Photo
Tuolumne County, CA — Officials report that an emergency device, and bright clothing, helped in the rescue of three backpackers from Indiana who became disoriented in the Stanislaus National Forest.
The group was hiking in a rocky portion of the Pacific Coast Trail near Cherry Creek in the Emigrant Wilderness. They got off the trail and were unable to relocate it, so they activated a personal locator beacon (PLB). The Tuolumne County Sheriff's Office received the alert and requested that a CHP helicopter respond out of Fresno. The crew of Helicopter-40 flew directly to the spot given by the PLB, and located the group approximately eight miles off the PCT. The names of the backpackers were not released by officials, but it is noted that there were no injuries.
They were flown back over to awaiting Tuolumne County Search and Rescue Team officials.
The CHP reports that the hikers played an active role in their rescue by wearing bright clothing and carrying the PLB. Clothes worn by backpackers can often blend into the surrounding environment.