Twain Harte Celebrates Memorial Day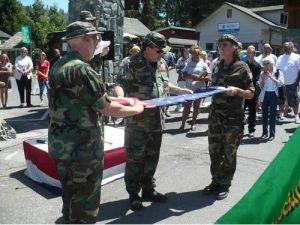 Twain Harte Memorial Day

View Photos
Twain Harte, CA — Twain Harte celebrated another Memorial Day with the raising of a flag that will fly for the next year.
The flag was presented to the city by Don and Gloria Escallier. They were given the flag by their son-in-law Col. Hank Arnold now stationed at Ft. Riley, Kansas awaiting a tour of duty in northern Iraq.
Arnold's wife is Escallier's daughter, Lt. Col. Susan Arnold, an attorney with the JAG Corp at the U.S. Embassy in Baghad.