Local Book Author Releases New Book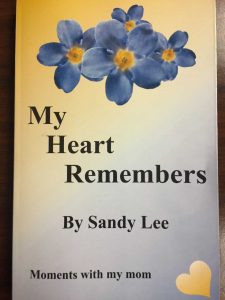 My Heart Remembers: By Sandy Lee

View Photo
Local book author Sandy Lee has just released a new book that deals with a subject that affects many families.
Lee was Friday's KVML "Newsmaker of the Day".
The name of the book is "My Heart Remembers; Moments With My Mom". The nearly 300 page paperback is available in Sonora at Mountain Bookshop and online at www.amothersquest.com.
Dealing with a mom with Alzheimer's can be heartbreaking. Lee chose to mainly write down the things that brought laughter instead of sorrow.
As the American novelist and short story writer, Veronica Roth has said,
"Sometimes crying or laughing are the only options left, and laughing feels better right now."
My Heart Remembers is a book filled with vignettes, covering a six year span of moments with her mom.
"All of them will touch the reader's heart," according to Lee.
Previously, Lee wrote a children's book about this subject called "Remembering Grandma". That book (which is still available) helps teach children a little of what Alzheimer's can be like, letting them know it is not their fault, and that Grandma or any other loved one affected by this disease, can't help what they do.
For more information on these or previous books, call Lee at 209-743-5223 or email amothersquest@gmail.com
The "Newsmaker of the Day" is heard every weekday morning at 6:45, 7:45 and 8:45 on AM 1450 and FM 102.7 KVML.