Enticing Participation With A Sweet Treat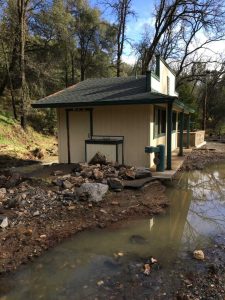 Flood damage by the concession stand at Mary Laveroni Park

View Photo
Groveland, CA –To hear from the Groveland community regarding recreation services and improvements at Mary Laveroni Park after winter flooding, a sweet treat is being offered.
Over the next three months, the ad hoc group, Groveland Regional Area Community Enhancement committee (GRACE), will be hosting three "S'mores about GRACE" meetings. Groveland Community Services District spokesperson Roni Lyn relays, "Our rotary club has created this beautiful barbecue, so we will be using that facility for the s'mores event and just hangout and ask the questions they want to ask and give us their input as to what they want to see in the community."
The meetings will be held on the 3rd Thursdays of the month thru September. The first one is tomorrow (Thursday, July 18) with two more scheduled for 8/15 and 9/19, all running from 7 p.m. to 8:30 p.m. The district is providing all the fixings for the gathering at the lower Mary Laveroni Park on Main Street in Groveland. Lyn adds, "We are keeping track of all the input we receive from community members and taking a poll to see what is their biggest drive via the park service."
GRACE has already held several meetings to discuss ways to get community members excited and involved in the improvement projects, as reported here. Lyn advises that once these meetings are completed, the committee will once again in October hold more formal forums on vying for a state grant to get the funding to make these wishes a reality.