Supervisors Approve Citizens Advisory Fire Committee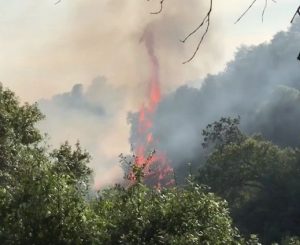 Fire near Old Wards Ferry Road

View Photo
Sonora, CA — Citing the need to engage the public in the effort to make Tuolumne County more fire resilient, seven members were appointed to a new volunteer committee.
There are seats for representatives from each of the five supervisor districts, and two at-large positions. They will collectively provide input to the board of supervisors and help with fire related initiatives.
The supervisors received around 20 applications for the committee, and each supervisor picked a person to represent their district. From District One, it will be retired CAL Fire Battalion Chief Scott Fremd, from District Two, Marvin Keshner, a solar industry consultant, from District Three, Carol Hallet, a Twain Harte CERT team leader, from District Four, Ralph Richards, a longtime firefighter and from District Five, Jerry Tannhauser, a leader with the Highway 108 FireSafe Council.
Immediately after, the board selected Kevin Anderson, a Sonora Planning Commissioner, and Wesley Brineger, a local forester, to fill the at-large seats.
Speaking about challenges ahead, Supervisor Sherri Brennan noted, "This is a large mountain we have to climb (fire danger). We didn't get here in the last year. It has taken us decades to get here, and it is going to take us some time, and a lot of energy, to get out of it."
The committee members will serve a two-year term.