Sewer Main Replacement To Impact Neighborhood Traffic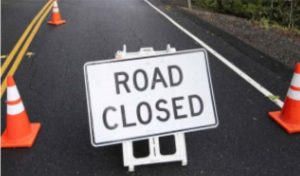 Road Closed Signage

View Photo
Sonora, CA – Beginning this week, work to address an antiquated sewer line will close some streets near downtown Sonora for the next month.
Tuolumne Utilities District (TUD) officials say the sewer line replacement project slated for Tuesday, July 16 through Friday, Aug. 9 will focus on Hillcrest Drive between Short Lane and Hope Street. During the period, traffic will be restricted to local traffic only from 7 a.m. until 4 p.m. and parking will be limited. Lyons Street between Palemone Street and Hillcrest Drive will experience similar impacts.
Officials note that motorists and residents will see and should abide by the traffic and parking signs.
Besides residents, local traffic includes non-through traffic accessing homes and businesses as well as delivery and garbage trucks.
TUD's primary work scope is to replace the outdated and problematic sewer mains on Hillcrest Drive and Palemone Street. Officials explain that the current system in the area has multiple angle fittings that cause clogs and backups. During the project's course, crews will replace 140 feet of 4-inch sewer main, increase 180 more feet from 4-ich to 6-inch, and construct a new manhole.
Selected through competitive bidding, Sonora-based Njirich and Sons, Inc. will be doing the work.