Feds Increasing Mental Health Services For Firefighters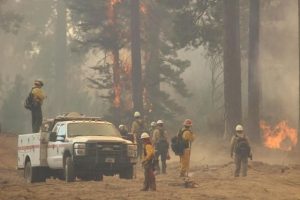 Forest Service Firefighters

View Photo
Sonora, CA — The federal government is noticing an increase in firefighter suicides and is increasing available mental health resources.
The National Interagency Fire Center based on the West Coast notes that it is difficult to release an accurate number of total suicides because federal agencies do not tally fatalities that occur outside of work hours, and sometimes families do not want a cause of death made public. However, they note that the number is rising. The non-profit Firefighter Behavioral Health Alliance reports that at least 115 firefighters and first responders died, nationwide, in 2017 of suicide.
The Associated Press reports that it is unclear why the numbers have been on the increase, but experts note that fire seasons are getting longer and more intense, resulting in potentially more post-traumatic stress. In addition, there is a long offseason for many firefighters, which can result in isolation, and money concerns without a steady paycheck.
This year the federal National Interagency Fire Center is bolstering a program that teaches coping skills one-on-one crisis intervention for firefighters dealing with trauma.
The center adds that the National Suicide Prevention Hotline is 1-800-273-8255.