Mother Lode Fair Sees Successes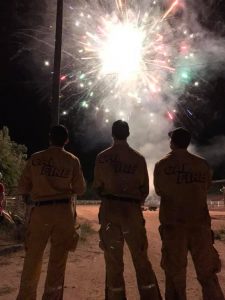 CAL Fire crew watching the Mother Lode Fair fireworks

View Photo
Sonora, CA – The Mother Lode Fair saw a jump in attendance and the livestock auction set records.
"It's great news," shares a smiling Mother Lode Fairgrounds CEO, Ken Alstott. Although still tallying up the final attendance numbers, he relays, "Overall with the fair, it looks like with the food, beverage and attendance, all were up about 10 percent."
The livestock auction also hit an all-time high. "The junior livestock auction had another record year," exclaims Alstott, adding, "The large animal was almost $450,000 and I believe the small show on Sunday was a huge success also with a little over $30,000, even though we didn't have chicken and turkeys from the epidemic that has taken place." Alstott is referring to the outbreak of the deadly Virulent Newcastle Disease in the state that forced the poultry show to be excluded from this year's fair, as detailed in this report.
Regarding what worked this year, he notes they were extremely happy with the food vendors, pointing to the overall quality and the return of the beloved funnel cake stand. Another hit was the canning and metal work exhibits and competitions. A big draw was also the fireworks display, which Alstott comments, "We were able to provide a safe free show for the community. There was a lot of behind the scenes effort that went in to produce that show and make it safe." He also gave a big thanks to CAL Fire for having an engine on scene just in case a spark would have ignited a blaze.
One reoccurring issue that Alstott admits he is unsure of its impacts, is whether the fair should remain on the Independence Day holiday weekend. While he acknowledges that many families go on vacation during that time, he says other factors tie them to that date. "It depends on what happens with the bigger fairs and the dates that they choose, so we don't have to compete with them to get the better carnival rides and food vendors," explains Alstott.
It is definitely a subject that will be discussed, confirms Alstott, especially when the fairground board meets to review the pros and cons from this year's fair.