Heavy Snow Keeps High Country Roads Closed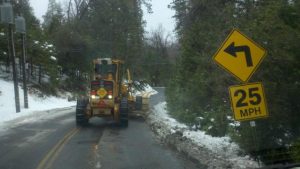 Snow Plow

View Photo
Sonora, CA – This winter's deep snow, while melting, is still hampering high country road cleanup in the Stanislaus National Forest.
Travel remains hazardous, forcing Forest Supervisor Jason Kuiken to extend a road closure order through July 31th or until conditions allow the roads to reopen. Cooler temperatures have delayed the spring melt says Mi-Wok and Summit District Ranger Sarah LaPlante, who adds, "It's been a long time since our roads have remained impassible due to snow this late. Our maintenance teams are finding conditions improving, but there was a lot of snow up there. We ask visitors to be patient and know we are opening roads and facilities as quickly as we can."
Forest officials note that allowing vehicles on roadways would also damage the infrastructure and paved surfaces, which could result in increased sedimentation in Eagle and Herring Creeks and other area drainages.
Forest officials provided this list of roads that remain closed, click here for road updates:
Forest Road No. 4N12 (Herring Creek Road) from its intersection with 18EV463
Forest Road No. 5N0 I (Eagle Meadow Road) from its intersection with 5NO1S
Forest Road No. 4N34 (Gooseberry Road)
Forest Road No. 4N47