Log Results In Battery Arrest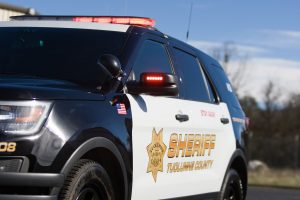 Tuolumne County Sheriff's Office Vehicle

View Photo
Columbia, CA – A Sonora woman reportedly used a log as a weapon and attacked a deputy while he was trying to handcuff her, according to Tuolumne County Sheriff's officials.
The alleged battery took place at a home in the 12900 block of Gloyr Gulch Road in Columbia on Thursday night. Sheriff's spokesperson Sgt. Andrea Benson details that 55-year-old Carrie Miller hit a man and then picked up a nearby log and threw it at him. The victim told Miller to get out of the home, but she refused. He then walked over to a neighboring residence as Miller followed.
The disturbance was reported to dispatch and a deputy responded to the scene. While questioning Miller, the deputy determined that Miller had been drinking and was intoxicated. As Miller was being arrested she struggled with the deputy, kicking them in the leg, according to Sgt. Benson.
Miller was booked into the Tuolumne County Jail for battery and resisting arrest on a $20,000 bail.