Mysterious Bubbling Goo Creating Concern In Sonora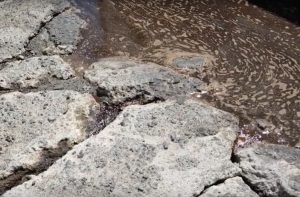 Bubbling Liquid along Mechanical Drive in Sonora
Sonora, CA — Video in the image box shows the foaming liquid that appears to be eroding the concrete along the 20800 block of Mechanical Drive, off Longeway Road.
A worker in the area spotted the mysterious liquid that he thought was oozing up from the ground this morning. Wanting to remain anonymous, he tells Clarke Broadcasting that the liquid, which spanned about 300 yards, had a chemical smell, much like nail polish remover. He says it was running down the shoulder of the road into a drainage pipe that runs under Highway 108 and into Willow Springs Pond.
We immediately contacted Tuolumne County Administration and they informed us that an environmental health official was heading to the area and would update us when more is known, which was around 5 p.m.
CAL Fire dispatch reports they received a call from a worried passerby and sent a unit to the area to check on the material. They relay that it did not appear that the liquid was hazardous, but noted that the incident was turned over to a county environmental official already on the scene.  We'll update this story when further details become available.