Twain Harte Project Improves Fire Response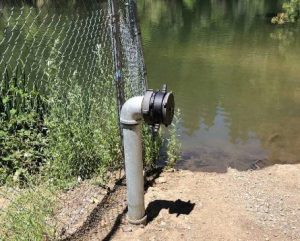 Twain Harte Raw Water Draft Point

View Photo
Twain Harte, CA — The Twain Harte Community Services District has put into service a raw-water draft point at the Shadybrook Reservoir.
The water source will improve the ability to rapidly deliver water for fire incidents while protecting the treated water delivery system. Twain Harte Fire Chief Todd McNeal reports that the draft point utilizes a dry hydrant, or pipe system, allowing fire engines and water tenders to quickly fill tanks with water from the reservoir. The department can also connect a dry hydrant with its tactical water tender to create a system that allows multiple engines to fill their tanks at the same time.
The draft point will help preserve treated water supply for drinking and sanitation purposes and to better prevent the system from receiving heavy wear and tear during fire emergencies. (Hydrants are supplied with treated water)
The cost to install the draft point was around $10,000.