New Home For Hospital's Outpatient Surgery Center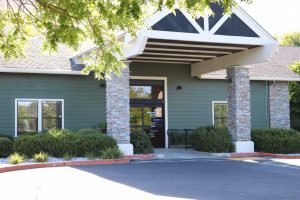 New Adventist Health Sonora Physical Medicine facility

View Photo
Sonora, CA – The Adventist Health Sonora Outpatient Surgery Center is moving to a new building and getting a new name as well.
Currently located at 905 Morningstar Drive next door to the Sonora's DMV office, the center will close its doors on Friday, July 12th. Its new residence will be just down the street at 12811 Covey Circle in the same facility as the Center for Wound Care. The renovated space will be the home of the newly named Adventist Health Sonora Physical Medicine. It will offer pain management procedures including epidural steroid injections, lumbar nerve blocks and sacroiliac joint injections.
Hospital officials share that the move will allow them to better serve patients suffering from painful conditions of the spine and other disorders while focusing services on the minimally invasive procedures offered by physical medicine and rehabilitation physicians.
The new facility will open on Wednesday, July 17th. Inquiries regarding scheduled appointments or services available can be directed to the Adventist Health Sonora Physical Medicine at 209-536-3790.