Bigelow, Newsom Weigh On On New Wildfire Safety Legislation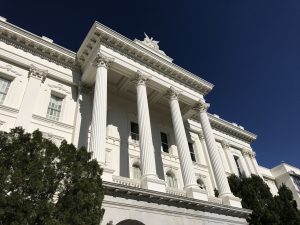 California State Capitol Building

View Photo
Sacramento, CA – A Mother Lode lawmaker and the governor are among those lauding the passage of new wildfire safety and accountability laws.
Assemblymember Frank Bigelow, who on Thursday voted in support of AB 1054, stated that will provide rural Californians with the necessary resources to mitigate the threat of catastrophic wildfires and facilitate a smoother recovery should they suffer related impacts to such a disaster.
The 5th Assembly District lawmaker, who represents Tuolumne and Calaveras counties, as well as Alpine, Amador, El Dorado, Madera, Mariposa, Mono, and Placer counties, said the new laws will hold utility companies accountable while at the same time protect consumers from skyrocketing rate increases.
He also pointed out that the bill will provide a reliable, rate neutral funding source for existing ratepayers. Prominently financed by utility companies and their shareholders for wildfire recovery, the $7.5 billion initial investment with $300 million over the next 10 years, will allow victims to more quickly recover from wildfire damage. The fund covers victims of previous wildfires caused by PG&E by requiring it to exit bankruptcy and fully compensate them before the funds can be used for utilities' wildfire costs.
"As more and more wildfires devastate California, inaction simply isn't an option," stated Bigelow. "The new safety measures in this bill ensure utilities maintain their equipment to the highest standards while creating strict accountability measures if they fall short. Without increasing costs to consumers, AB 1054 will stabilize California's utility markets and keep the lights on in our communities."
In addition to requiring utilities to invest a combined $5 billion towards safety improvements throughout the state's electrical grid, the bill mandates that they earn a safety certification, which requires having and complying with an approved Wildfire Mitigation Plan; complying with a safety culture assessment; establishing a safety committee; and linking executive pay to the company's safety performance.
Governor Gavin Newsom thanked the Legislature for taking what he described as thoughtful and decisive action to move the state toward a safer, affordable and reliable energy future that would provide certainty for wildfire victims and continue California's progress toward meeting its clean energy goals.
He added, "The rise in catastrophic wildfires fueled by climate change is a direct threat to Californians. Strengthening our state's wildfire prevention, preparedness and mitigation efforts will continue to be a top priority for my administration and our work with the Legislature."