Prescribed Burn To Be Ignited Tuesday In Forest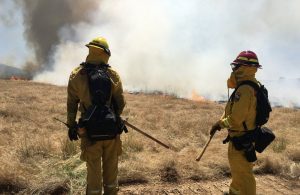 Prescribed Burning

View Photo
Groveland, CA – Motorists traveling along Highway 120 and surround communities may see smoke fill the skies for several days this week.
The Stanislaus National Forest plans to set ablaze in total nearly 2000 acres at different times over the next five years, weather, fuels and air quality permitting. The current schedule is to burn 50 acres over the next three days for  the China Ridge Understory Burn located in the Groveland Ranger District and following China Ridge south to Greeley Hill Road about  four miles northeast of Greeley Hill. The first day of burning is Tuesday, July 9th and running through July 11th.
The goal is to reduce forest fuels, improve firefighting capabilities, and reduce the impacts of large uncontrolled devastating wild fires. Smoke may be visible from Smith Station Road and Highway 120 with some down canyon drift smoke visible in the evening and early morning hours. As this project is a planned prescribed fire, the public is asked not to report it as a wildland fire.